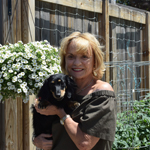 CAROL PARKER
Carol Parker is the owner and president of Parker Pet Care Inc. Carol began working at Parker Pet Care as a part-time student while attending Downsview Secondary School. As part of a multi-generational family business, she has been at the helm of the many initiatives and changes Parker Pet Care has seen over the years both in Parker Pet Care and in the animal care field in Toronto. Carol takes great pride in the leadership as well as the consistently high level of care Parker Pet Care has provided to the pet owners of Toronto for over 70 years.
Carol has an entrepreneurial mindset and has refined her business skills over the years through collaboration with business executives and business leaders both in and outside of the animal care industry. Carol remains involved and passionate about the exciting new changes in the field of animal care and is grateful her third generation sons share her passionate for both business and animals.
Carol lives in Toronto and shares her life with her 2 grandchildren, 4 cats and new Dachshund, Sophie.  She is a talented tennis player and fitness buff, enjoys vintage red wine (from California, please) and visiting the Symphony and Theatre.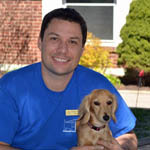 ANDREW PARKER
As a third generation Parker, Andrew grew up around the family business. However prior to becoming fully immersed in Parker Pet Care, Andrew graduated with a degree in Psychology and worked as a Child Therapist for 7 years. Today, as our Vice-President of Operations, Andrew oversees all aspects of the business, responsible for business growth and direction. He oversees the operation of both branches, which includes Animal Care, Staffing, and Financials.
His strong relationships with clients and veterinarians, along with his experience and expertise in the business has helped Parker Pet Care achieve the strong position it currently holds within the industry.
Andrew's greatest passions include cooking, playing the piano, flying Gyro Planes, and of course his beautiful Dachshund, Julienne.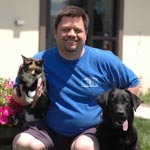 JAMIE PARKER JR.
Jamie was born and raised in the family business and began helping out after school and on weekends and holidays, at the tender age of 12. He learned early about providing excellent customer service and outstanding animal care working side by side with his parents and grandparents. Jamie has held almost every position at Parker Pet Care over the last 25 years, and has managed both the North York and West Hill locations. Today, Jamie main focus is establishing closer ties with the city's many veterinarians and other marketing initiatives as required.  He is also involved with Parker Pet Care's Pick up and Drop Off service.
Jamie lives with his Black Lab, Meg, and his two cats, Coco-Bean, and Jelly-Bean. In his spare time, Jamie enjoys spending time with his two children Madison, and Connor. When Jamie is not coaching Connor's hockey team, you can find him either at a Leafs' game or following the Maple Leafs (for better or worse).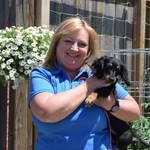 SUSAN PARKER
Susan wears two hats – As Director of Finance & Admin, she is involved in all things financial for Parker Pet Care. In addition to that, Susan also oversees Human Resources and other day-to-day nuances that may come up, and at times, makes for some rather full days. Susan just recently celebrated her 10 year anniversary working at Parker Pet Care coming from having spent many years in Investment Banking.
When she's not figuring out numbers at Parker Pet Care, Susan spends her off time enjoying yoga, time with her family, friends, and especially her two children Madison and Connor. She also has two furry children whom she's completely in love with– her cat, Hammy and her puppy Dachshund, Lily.